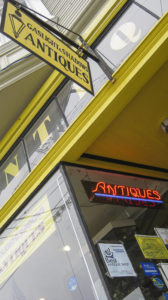 Gaslight & Shadows Antiques was founded by Phyllis Nabhan in 1976. The goal was to create a store that was friendly, affordable, and packed with unique interesting items of many types.
The store has been a neighborhood favorite for many years and now thanks to the Internet, attracts people from all over the country and World.
Specializing vintage Bakelite jewelry and items, and Limoges Boxes, the store has collections not found elsewhere.
Buy – Sell – Consignments Taken
2018, this is our 42nd  Anniversary! Come help celebrate with huge discounts on many items including china cabinets, art, paintings, prints, dolls, jewelry, porcelain, china, figurines, glassware, crystal, silver, teddy bears, hats, purses, souvenirs, cook books, photos, magazines, clothing, collectables of many types, and much more. The store is packed!
Gaslight & Shadows Antiques
2335 Clement St. @ 25th Ave.

San Francisco, CA 94121
Hours:
Call for hours as sometimes we have to change the hours 415-387-0633

Monday – Friday – 2:00 PM – 5:00 PM
Saturday – 1:00 PM – 6:00 PM
Sunday – Closed


and by appointment



Vintage Bakelite Jewelry & Collectibles
Much thanks to City College of San Francisco for all the knowledge that keeps the store going.